One of the most popular films of 1984 was a Sci-Fi feature called "Night of the Comet". Here's the synopsis: Two Valley girls wake up to find that a passing comet has turned everyone to dust, except for them, a truck driver (who looks like Eric Estrada), and a pack of mean-ass cannibal mutants.
With the help of the truck driver, the girls save the earth from a villainous government "think tank," karate chop and Uzi their way through flesh-eating zombies, and, of course, find time to go to the mall.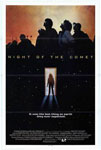 The movie has since become a cult classic.
Anyway, I can't remember how I came to know Don Perry, the Music Producer/Supervisor of the film, but when I played him a couple of songs I'd recently written, he immediately wanted them in the film. One of them was a song called, "Strong Heart" (See Chapter 7), which was covered specifically for the movie soundtrack by John Townsend of the Sanford Townsend band.
The other song is the subject of this chapter, "Trouble". They not only wanted the song, but they wanted me to sing it (yikes!), so into the studio we went with Don and his hot-shot engineer brother, Tom. It was a great experience, and it was especially cool to sit in a crowded theater and hear my songs (and my voice) blasting on the big screen.
Details: I wrote this song by myself, plus I played everything on this demo — which was done before I had my own studio, before drum machine stopped sounding like drum machines, when one of the best sounds you could get on guitar was with a Rockman, and when Autotune was only a dream.
Here's my original demo of the song:
"Trouble"

And here's a link to a Youtube video with the finished recording that appeared in the film. The movie is still available for rent and for sale just about everywhere, so if you ever rent it, "Trouble" plays when the girls are walking into the creepy radio station.
TROUBLE
Words & Music by Skip Adams
(V1)
I can tell by that look in your eyes
That you've had your way before
And I've heard about those broken hearts
Leading to your door
Baby I've got your number
So you'd better watch your step
Cause if you're looking to break my heart
You're gonna need some help
(Chorus)
You just found trouble
Trouble
I'll be watching you tonight
My name is trouble
Trouble
Oh yeah you better treat me right
Cause I've learn from all those night I cried
There's a thief that steals your heart with lies
And you can run but you can never hide
From Trouble
(V2)
Well you better have some magic
In that dusty bag of tricks
And don't ever say you love me
Unless you plan to make it stick
Now I feel my heart is slipping
So if you want to keep your health
Don't you let me fall in love without
Going there yourself
(Chorus)
(Solo)
(Chorus Out)
And here's a Youtube video of John Townsends recording of "Strong Heart" from the movie.

Tags: music, Skip Adams, songs, Songwriter, songwriting