The music that plays at the beginning of a TV show is called the "Theme", and there are several ways this music gets chosen. One way is the method I'll call the "Selective Cattle Call". That's when a number of known composers and/or songwriters (usually with connections to someone involved in the show), are asked to sort of compete with one another to be the chosen one. I say "Chosen One" because writing the theme for a successful TV show can mean a respectable amount in royalties every quarter for life – and beyond.
So, circa 1991 I was writing songs with film/TV composer, Misha Segal, when he was called on to submit some ideas for a new sit-com starring Nell Carter. My best recollection is that the title of the show was to be "The Nell Carter Show", but it was changed to "You Take The Kids" by the time the show had started airing.
Now, Misha had scored more TV movies than there are craters on the moon, so it's not surprising that he'd be asked to do something like this. I, on the other hand, had never done anything like this before. The twist, though, was that they wanted a theme with words (a song) that Nell would sing. Misha didn't write lyrics, and I write both, so that's where I came into the picture.
Right off the bat, Misha cooked up two funky little grooves with melodies, and so I got to work channeling a very large black woman living in a suburban home with her husband and four kids. And by the end of the day we had these two songs.
As per usual, I took our rough demos back to my North Hollywood studio and did them up. I dropped Misha's midi keyboard tracks into my sequencer (Steinberg Pro 24) and started layering stuff on top of them. Once I had a pair of solid rhythm tracks I called in veteran gospel singer, Vermettya Royster (an actual very large black woman), to knock it out of the park. And that she did. (the background vocals too!)
In spite of all of the above, I'm sorry to tell you that neither one of our songs got picked for the show. Still, every time I go back and listen to these tracks I get happy, and feel proud of what we did.
Pardon me for not including lyrics this time, but you won't need them. Vermettya's voice cuts through like Mahalia Jackson is singing right in your ear.
"We'll Get By"

"Our House"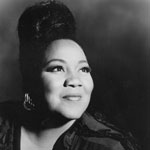 Vermettya Royster

Tags: music, Skip Adams, songs, Songwriter, songwriting