The weirdest things happen once it gets out that you've got a hot song. For instance, I was bar hopping in Hollywood one night back in 1984 when Billy Meshel (President of Arista Music) came up to me out of the blue and said, "I heard that song of yours, Out of Control. I like it", and then just walked away. I had no idea how he knew me or the song, but he did.
Because of this song, that year was a whirlwind. For a while, just about every day, I and my co-writer, Lenny Macaluso, were being carted around town and courted by every label and producer that had a pop artist who was about to record an album.
Eventually we met with Benny Medina at Motown who told us about this hot new artist they'd just signed for a million dollar advance. Unprecedented for the time. His name was Sam Harris, and because he'd just won the Star Search TV series, he was a household name and was going to be huge. So we hopped on board and agreed to let Sam be the first one to record the song. I was especially pumped up a month later when Sam said in an LA Times interview that the first single was going to be "Out Of Control", and they were going to name the album Out Of Control, too. Once again, I was going to be rich and famous!
But anything can happen in the music business. Nothing's final 'til it's on vinyl, as they say. Long story short, Sam's album came out in the fall of 84. It was not called Out Of Control, and the first single was not my song. The single they did release tanked, and when Motown hadn't sold as many records as anticipated, they pulled the plug.
To add insult to injury, among the offers we'd turned down was one from John Ryan, producer of Styx, The Allman Brothers and Santana, among other greats. He said if I'd let him record the song with a new group he was producing, it would be their first single. But Lenny and I were betting on Sam, so we turned him down. He was pissed!
As it turned out, the group was Animotion. Their first single was number one for several weeks in the U.S., and was a worldwide hit. Oh well.
Still, Sam's record sold about 800, 000 units, and I got a gold record and a small pile of money out of it. Plus I got a couple more covers later on. Not too bad for a country boy.
Details: Below are two versions of the song. The demo is mostly me, myself and I. Greg Whelchell (From the Pointer Sisters) played a couple of the keyboard parts, and Linda Lawley did the vocals.
My demo…
And here's Sam Harris' version on Motown…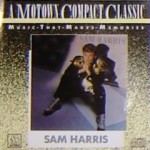 OUT OF CONTROL
Words & Music by Skip Adams and Lenny Macaluso
(V1)
Here comes that boy again giving me the eye
I feel the danger signals warning me to hide
But I can't hold back when the fire starts to grow
That's when my heart goes out of control
(V2)
Something about the way he stares straight into me
His eyes like fingers touching me so eagerly
I try to break away, he tightens up his hold
That when my goes
(Chorus)
OUT OF CONTROL
And I just can't fight it, oh no
OUT OF CONTROL
Like a hunted heart
Trapped in the jaws of desire
When I feel the passion flowing
When I feel the fire growing
That's when my heart goes
OUT OF CONTROL
(V3)
My fever's rising as he slowly closes in
My body's aching and I know I must give in
I can't resist him, my emotions overload
He's got my heart goin…
(chorus)
(solo)
(Chorus)
PS: If you gotten this far you deserve a bonus recording. Here's a recording by the French pop star, Sylvi Vartan

Tags: music, Skip Adams, songs, Songwriter, songwriting