James Adams and Kelly Rudisill are two very special people to me. James, of course, is my son; a beautiful soul and a fine musician in his own right. Kelly is his paramour — is like a daughter to me — and is one of the most talented and wonderful people I have ever met. Music and beauty simply radiate from her.
Kelly & James were not always in love. But when they fell, they fell hard, and when James had to go live in China for the first semester of his senior year of college, it was no easy parting. What do songwriter's do in situations like this? They write songs! Kelly was no exception.
One day, while she and I were sitting on my Venice Beach patio commiserating over missing James, she played a couple of songs she'd just written about him. They were just simple piano/vocals, probably recorded on her iPhone, but what came out were mournful, magical, beautiful songs from a heart as true as a heart can be, and I knew I just wanted to help her bring them to life so she could send her message to James in full, living color. These two recordings are the result.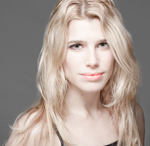 "RISK"

"MY MAN"

By the way, Kelly's talent didn't begin or end here. Here are links to a couple of examples of her work with her sister, Kamille, in their band, Karmina (Formerly on CBS Records, now Indy). If you like "Risk" and "My Man," you'll love "Fingers Crossed" and their cover of Maroon 5's "Payphone." Check 'em out!
Credits and Details: Both of these songs were recorded in bits and piece all over the country. Kelly cut the vocals (and a scratch piano) on both songs in her Marina del Rey apartment on her Pro-Tools rig. James' good friend, Philippe Luchansky, cut the acoustic guitar track there too. I recorded the basic tracks for "Risk" at Mark Schulman's studio in Venice (just before I moved to Tennessee). In fact, we overdubbed them to Kelly's vocal and click track.
Mark (Drummer for Pink and others) played drums, of course. And Julian Coryell (Larry's very talented son) played guitar and bass. The piano was overdubbed in Detroit by my friend Leon Ayers Jr., and the strings were arranged and recorded by Giovanni Lodigani a little later on.
"My Man" started out similarly, but the basics were cut here in Nashville by Stacey Hogan and his crew.
Once all of the above had been recorded, I overdubbed more guitar, some keyboards, and then mixed it all "in the box" here at my home near Nashville.